Coop Gallery
San Angelo Museum of Fine Arts, Coop Gallery, 427 South Oakes Street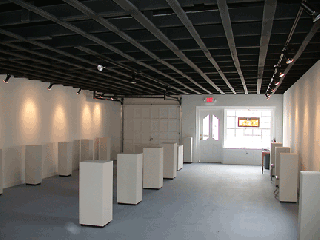 The gallery was named in honor of our friend, the late Roger Allen, founder of the Old Chicken Farm Art Center and long time SAMFA supporter.
Helping Artists
Artists (emerging and pro) are welcome to show in the Coop.
We want to encourage artists to try new things. Installation, performance, new media and traditional processes are all welcome in the Coop. The space is limited only by your imagination!
Show Art in the Coop:
Artists
$50 per day
$75 for an Art Walk night and weekends
It is always free to rent the COOP for:
Angelo State Students with student ID
Non-profit and non-partisan groups
K-12 Classroom Teachers: Show off student art and projects for FREE!
K-12 Classrooms participating in a multi-visit art program at SAMFA are invited to a Coop Gallery reception to celebrate their work. To schedule a multi-visti program call (325)653-3333.
To schedule your show call (325)653-3333 or download and submit the show proposal form. Show Proposal Form

UPCOMING Exhibits:
SAMFA Museum Staff Exhibit
February 21 from 5 - 9 pm (During Downtown Stroll)
February 23 from 10 am - 4 pm

Please join us as the Museum's employees showcase their own artworks in an eclectic exhibit at the Coop Gallery. Each employee has a passion for artwork, which has led them to join the museum staff over the years. There will be a variety of mediums and styles on display for the public to enjoy and all works will be for sale unless otherwise noted.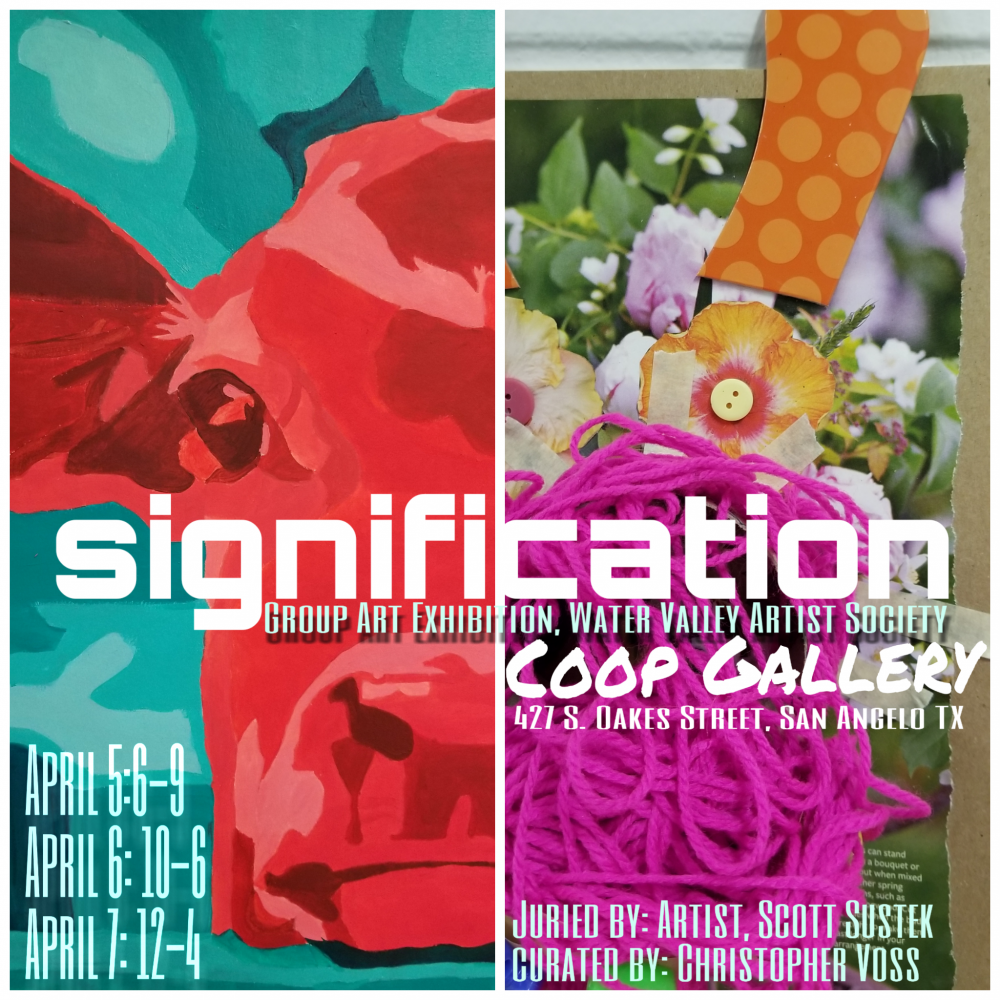 Signification
April 5 from 6 - 9 pm • Exhibit Opening

April 6 from 10 am - 6 pm
April 7 from 10 am - 4 pm
The "signification" art exhibition includes art color theory and mixed media studies by the Water Valley Artist Society art students. These student artists created art that connects to many design principles such as color, value, visual and actual texture, variety, shape, line, and other mixed media applications. The point of this collection of studies is to allow students use a variety of methods to create signification or the representation or conveying of meaning using color and mixed media processes. The exhibition will be curated by international artist, adjunct professor, and art instructor Christopher Voss. The exhibition will be juried by Sculptor, Painter, and Mixed Media Artist, and Educator, Scott Sustek.

Scott Sustek is a high school science teacher and practicing artist who has maintained a studio in San Angelo since 2006. He moved here from Austin because of the flourishing local arts community, particularly the Chicken Farm Art Center and SAMFA. He sculpts mostly in clay for bronze casting, but also enjoys welding and painting, as well as making found object assemblages. Scott holds a B.A. and an M.A.T. from Rice University. He has taught art at the junior high, high school and adult level for many years, and still considers himself a student. Notable Sustek sculptures in the area include the Wise Old Owl at the Stephens Central Library, the Bronze Jet at the Regional Airport, the Working Cowboy at Bryant and 3rd Street, the Rancher Watering his Horse statue at Heritage Park, and the Blue Morpho kinetic sculpture at Sunken Gardens Park.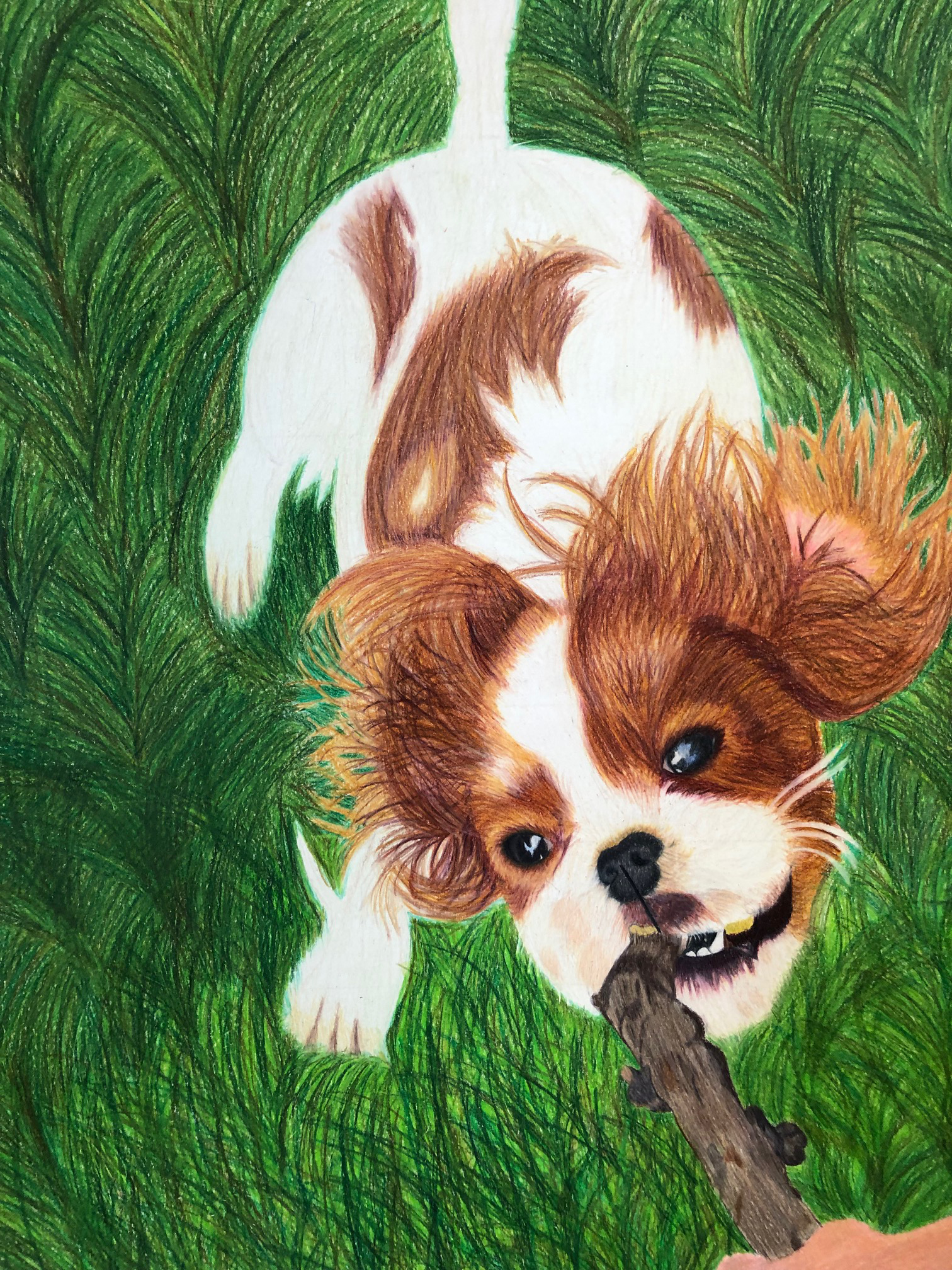 Wall I.S.D. Student Show
May 7, 2019
Open from 5 - 6:30 pm

Wall High School Art Students have produced original works of art to compete in the Visual Arts Scholastic Education Regional Competition. Each work was chosen by the students as well as the media. Refreshments provided.

Charlie by Hattie Hoffman
Past Exhibits:
2019
Kara D Fashion Exhibit (February 16, 2019) Kara D will be showcased her fashion works from her senior show at the Art Institute.
2018
Exploring the Elements of Art (November 15 & 17, 2018) A display of student prints, paintings, drawings, digital photography, and short films, made by 8th graders from Glenn Middle School.
Zoos Without Bars (November 9 - 11, 2018) Art themed around the animal kingdom. From the majestic aspects of wildlife to the human interactions with the beasts of our world.
Molly Archer: Nouvelle Vi (October 11 & 13, 2018)
Molly Archer's solo exhibition is an all new series of abstract paintings. Each piece consists of a blended colorful palette of rich dark layers covered and peeking through light pastels and bright colors with layers of gold leaf accents.

Women of Steel (September 21,2018)
Featuring Michelle Cuevas, Elaine May, and Shaydee Watson. Bringing together 3 local San Angelo women artists showcasing a light hearted, exciting exhibit.
Kim Leabo: Awakened (May 17 & 19, 2018)
"Awakened" is the emergence of new artist Kim Leabo. Each piece is inspired from her personal life experience. This collection is non-object and abstract. It is meant to be interpreted differently by each viewer. Pieces are colorful and inovke different emotions for all.

"re-Constructs" A Collective Visual Dialogue (May 4-6, 2018)
The "re-Constructs" art exhibition contains a variety of studies from both Water Valley Artist Society of Water Valley ISD and Angelo University art students. Art works on exhibit include mixed media narratives and portraits, still life and altered object drawings, figure studies, video, color theory paintings and mixed media sculpture studies in this collective art exhibition. This exhibition is being curated by Christopher Voss, Art Instructor of the Water Valley ISD and Adjunct Professor of Art at Angelo State University.

Moments in Time (April 27, 2018)
An exhibit of digital photographs produced by students from Angelo State University who are currently enrolled in the Advanced Photography class.
2018 Six Pack Show (April 20-22, 2018)
This was our 20th annual Six Pack show, in conjunction with San Angelo Museum of Arts Ceramic Weekend. All ceramic artwork pieces in the show fit within the space of a six pack of longneck bottles.
The Fabled Show (February 15, 2018)
A group of students that create art in a studio space to help each other to get more experience in the art field. Participating artists include Johnny Le, Edith Perez, Jazmin Luna, Jill Murray, Taylor Page, Vincent Tanner, Yesika Ramos, Sarah Campbell, Derrick Clifton, Alayna Turney, Andrea Thomas.
2017
Adrian Dominguez & Bailey Upton Art Exhibition (November 13 - 17, 2017) A collection of oil, acrylic, and watercolor paintings that showcase numerous issues in society as well as unique forms of self expression. A mixture of surrealism, realism and minimalism.
ASU Students Study Abroad Art Exhibit (September 22-24, 2017) A collection of works Angelo State University students put together to raise funds to go towards a study abroad program in Nepal.

ec•lec•tic (May 19-21, 2017) This group exhibition contains a collection of visual engagements by the artists of the Water Valley Artist Society, Water Valley ISD Art Department. These works contain both visual works and written statements that contain in-depth conceptual visual dialog through the eclectic array of studies.
Art by Ashley Perales (April 29, 2017 from 6 - 9 pm) Bright, colorful works of art by Ashley Perales. Realistic depictions of nature such as plants, birds, and other animals. All proceeds from show are to raise money for Ashley's study abroad trip.
Beginning (April 21-22, 2017) A group exhibit of Potter Doug Oertli & his current & former ceramicists.
Plein Air San Angelo Group Show (February 16, 2017 5 - 9 pm)
Participating artists include Tom Orsak, JoNell Richardson, Jack Price, Janet Lay, Jerrilyn Prestiano, Priscilla Nicholson, Scott Sustak, Mary James, Pat Koenig, Diana Lee Jones, Barbara Rallo, Patricia Aylor, Randi Buche, Nelda Englert, Joanna Kulenek, Mary Lee Lenertz and Edna Krueger.
2016
AMTP Art Show (November 17, 2016) Artists: Ashley Crumley, Matt Crumley, Thomas Clemens, and Patrick Sum. Group Exhibition
Aqua Squad Presents: WaterLESS World (August 18, 2016) Aqua Squad is a group of 10 students from San Angelo Independent School district that spend the summer learning about water issues in our community and how to interpret that information for public use. The 7th and 8th graders become water ambassadors for the Concho Valley and represent San Angelo across the United States.
"Portraits" Exhibit (May 19-21, 2016) Water Valley Artist Society Group exhibition

"We Are" Exhibit (May 13-14, 2016) Part of Cocktails & Art, presented by San Angelo Civic Ballet as part of We Are... This exhibit looks at who San Angelo Civic Ballet is as an organization as well as at the creative process behind the We Are... performances.
The 6-Pack Show (April 15 - 16, 2016) Texas Clay Arts Association Members Show

Transitions (January 29, 2016) Solo exhibit by JoElla Mendez. Mixed Media and abstract works on canvas.
2015
Friday Art Club (November 19 - 21, 2015) Ten Angelo State University art students exhibit works in a variety of mediums including a collaborative piece painted by all ten artists.
Delirium (October 9 - October 10, 2015) A group of seven local San Angelo artists held an opening of their work, which included painting, drawing, mixed media, pottery, film and a live music performance. Artists Included: Ashley Crumley, Bret Poplos, Jennifer Garcia, Joseph Gear, Matthew Crumley, Patrick Sum, and Tony Garcia
Women Artists of West Texas (May 8 - 9, 2015) Priscilla Nicholson - Watercolor, Nelda Englert - Multi-Media, Edie Jones - Clay