Gallery Verde

The San Angelo Museum of Fine Arts, Gallery Verde, 417 S.Oakes
This commercial building was constructed in the early 1920's and over the years has been the location of a number of retail businesses. The property had gone into severe decline and virtual abandonment until 2002 when it was acquired by the San Angelo Museum of Fine Arts. In a joint venture with the Upper Colorado River Authority, the museum restored this building and for over seven years it was used as an education center by the UCRA. The museum will now operate an art gallery at this location. In recognition of the numerous environmentally based exhibitions and programs that have taken place here, we have decided to name the space Gallery Verde.

Gallery Verde is looked upon as a gallery of the museum and is to be used to highlight the work of outstanding individuals, groups and contemporary collections. Exhibitions in Gallery Verde will provide educational content, inspiration and information to the community in accordance with the museum's mission. The gallery space is meant to create awareness in all aspects of environmental knowledge including human social interaction and concerns. Artists, groups and collections are expected to be of the highest qualities and presented professionally.
Our premier exhibit features over forty works created by leading artists from around the country who participate in the museum's first national "En Plein Air" competition. Fittingly the artists have reflected on the constructed as well as natural environments of our region.
If you are interested in exhibiting your work and feel your work meets the above criteria, please contact Shaydee Watson at 325-653-3333. You can also email culturaldistrict@samfa.org for more information.
Upcoming Events: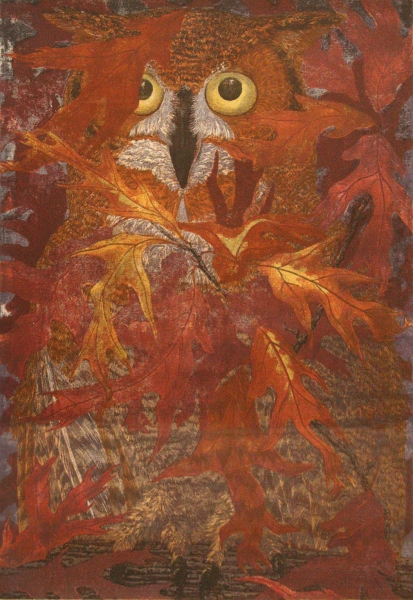 Some Past is Present by the Jody Klotz Fine Art Gallery
Friday, December 13, 2019 · 5:30 - 8 pm · Exhibit Opening
An exhibition of works by master printmaker Janet Turner (1914 - 1988), active in Texas in the 1940s and 1950s, and a selection of European and American Impressionist and Post-war paintings from our extensive gallery inventory.
Sat. December 14 · 10 am - 4 pm
Sun. December 15 · 1 - 4 pm
Thurs. December 19 · 5 - 9 pm (During Downtown Stroll)
Visit their website: jodyklotz.com
The Nightwatcher
by Janet Turner
Mental • "An examination of inner states"
January 17, 2020 • Exhibit Opening
5:30 - 9 pm
January 18 · 10 am - 4 pm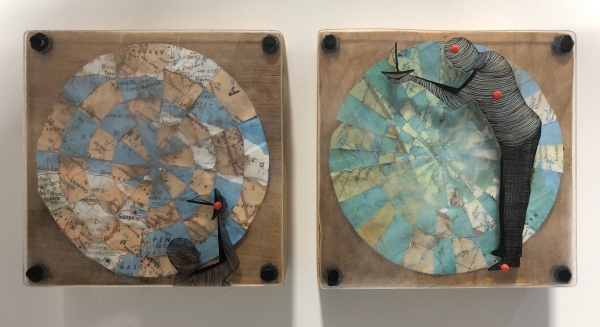 Kara Donatelli
I have always been interested in psychology and psychological disorders along with cartography and maps — two very diverse areas of study. I hadn't considered combining these interests until I began this body of work. In terms of class, similarities I've observed are the ease of accessibility or lack thereof, to both quality of psychological care and the capability to move freely geographically. Public opinion also focuses on an individual's connection and ability to achieve either of these. Historically, people with money who encountered psychological issues could spend time at a "retreat" to calm their nerves, while those without may have been labeled as "crazy" and held against their will or geographically relocated. The poor also didn't have the means to travel or relocate while the wealthy could easily do both as they desired. My goal, at a minimum, is to evoke the distinction of freedom and limitation that the viewer can interpret in a variety of circumstances.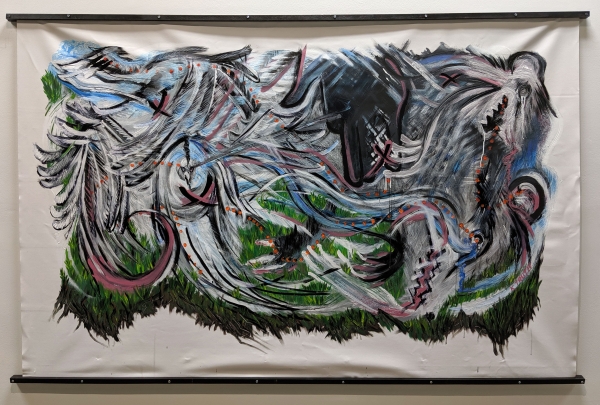 Kat Truth
Barring access to treatment, reflection and research might be all down to the individual. As we are all prone to find cancer on WebMD, a few clicks on Quora or Reddit can cause us to easily walk ourselves down a self-diagnosed path of mental health issues. For some, these paths lead to a great forest of self-improvement: a forest of wellness and calm or self-care and resurrection. For many others, the paths only expose more types of trees.
Dreams replace reality, relationships replace family, and animals replace people in my symbolic and homage-laden psychological investigations. An owl appeared, he closed Facebook, the cat suddenly likes me, is this tree dying, there is a bike reflector, everyone is whispering, the door is wide open– For most, the insubstantial are just that, but here there are moments when everything means everything. Welcome to my arboretum.
---
Past Exhibits:
2019
Concho Vallery Photography Club (November 21, 2019)
A collection of photography from San Angelo's Concho Valley Photography Club.
Form Foundation (September 19-21, 2019)
A joint exhibit exploring the sculptural expertise of Kevin Stanford and the emerging imagery of Julio Gonzalez. Kevin exhibited over 10 pieces of forged metal sculptures. These sculptures explored the boundaries of medium. Julio exhibited 15 acrylic and mixed media paintings. These paintings were part of a set of series with unique narratives.
Artfully Able - Creativity Knows No Bounds (May 15-June 15, 2019)
Artwork by residents of the San Angelo State Supported Living Center
Constructured ClayScapes (April 12-14, 2019) Curated by Jess Wade & Jamie Lea Wade
Constructured ClayScapes features ceramic sculptures, vessels, and installations that are explorations of form, color, texture, time and space. These Constructed Remnants of Beauty and decay stand in as moments and monuments that celebrate life's journey. Featuring artists Paul S. Briggs, Nom Ceramics, Jeff Forster, Eric Jackson, Diana Kersey, Jennifer Masley, and Todd Van Duren.
2018
Concho Valley Photography Club Exhibit
(November 15-17, 2018) A collection of photography from San Angelo's Concho Valley Photography Club.
What's coming Out of It?
(September 21-22, 2018) Ty Morris is a transitional and mixed media painter. His body of work shows a great retrospective of style. www.tymorris.com

Rockport by Elijah Barrett
(July 13 & 19, 2018) Rockport is Austin-based artist Elijah Barrett's account of the weeks and months after Hurricane Harvey swept through the community of Rockport, Texas and the surrounding area.

PASAbilities
(June 21, 2018)Plein Air San Angelo is an open artists group focused on encouraging artistic growth.
Exhibit of local artists within the community.
Narrative Offerings 2018
(April 20-23, 2018) This show offers portals and springboards into other worlds and states of being through mostly figurative representations. These artists are telling stories that can help describe our cultural narratives and collective realities. Artists include Alejandra Almuelle, Jolea Arcidiacono, Susan Bell, Carl, Block, Max Butler, Pat Johnson, Ty Johnson, Billy Ray Mangham, Yana Payusova, James, Tisdale, Jamie Lea Wade, Jess Wade, and Karen Woodward.

Reaves/Foltz Fine Art Announces One-Night Only Art Pop-Up Gallery
(February 15, 2018) On view were works by 13 members of the gallery's Contemporary Texas Regionalism group, offering a grand revue of the best narrative art being produced in the state today. Participating artists included Randy Bacon (Abilene), Mary Baxter (Marfa), David Caton (Utopia), Margie Crisp (Elgin), Fidencio Duran (Austin), Pat Gabriel (Fort Worth), Billy Hassell (Fort Worth), Lee Jamison (Huntsville), Laura Lewis (Mason), William Montgomery (Elgin), Noe Perez (Corpus Christi), Jeri Salter (Round Rock) and Debbie Stevens (Cypress). All of these well-established, mid career artists are distinguished in their own right.

2017
The Pacific Gyre series: A Project About Consumption and Loss
(December 16, 2017 - January 18, 2018) Omisade Amy Gerhauser's Pacific Gyre Series deals with issue of plastic debris in the ocean; pre- and postconsumer plastic waste breaks down into small pieces and is indefinitely trapped in swirling oceanic currents called gyres. The plastic is consumed by marine animals such as the Albatross who starve due to the indigestibility of plastic.
Colores Latinos
(November 2 - 5, 2017) Art Show and Sale benefiting the Lake View High School and Lincoln Middle School Mariachi Program. Artists include Anthony Fuentez, Dario Avalos, Gabree Torres, Michelle Cuevas, Raul Ruiz, Wendy Woodring, and Yolanda Rayos.

Kevin Stanford: Iron Like Clay
(October 5 - 13, 2017) Forged art objects created using traditional and contemporary blacksmithing techniques. Found iron brought to life and exploration of the plasticity of iron at hight temperatures.
John Hemphill: Images of The International Waterlily Garden and More
(March 31 - April 4, 2017) John Hemphill, local photographer, has had an abiding interest in San Angelo's International Waterlily Garden and he has made four different shoots of the garden, capturing the special qualities of light available at sunrise, sunset and late on a cloudy afternoon.
Concho Valley Photography Club Group Exhibit
(February 16 - 25, 2017) A collection of photography by artists Ernie Charlesworth, Todd Clary, Jana Jenkins, Mickey Lanty, Charles Luker, Christine McCormick, Jackie Thompson, and Bill Yeates.

2016
West of Eden – Gallery Exhibit
(December 9 - 15, 2016) Collaborating artists Eric and Morgan Grasham combined taxidermy with ceramics, painting, and digital media for this contemporary cabinet of curiosities.
Best Friends II
(November 4 - 30, 2016) A collection of photography catching a special moment in time of man's best friend, the dog. The photographs were on loan from The Grace Museum in Abilene, Texas and from the collection of Alice and Bill Wright.

Billy Merry Art's Debut Gallery Showing
(September 23 - 24, 2016) Abstract Acrylic Paintings
West Texas Chronicles Exhibit by Tom C. Orsak
(September 15, 2016) 2016 EnPleinAir TEXAS Competition Artist Gallery Show

PASA Spring Sale
(May 19, 2016) Featured both new studio and Plein Air paintings.
Emily Leonard
(May 12-14, 2016) Emily was in town as part of a collaboration with the San Angelo Civic Ballet production, We Are... She painted an orginal piece live onstage during the event. At the same time, she had an exibit featuring original oils and prints of abstract and impressionistic landscape art at Gallery Verde.
Narrative Offerings
(April 15th - 17th, 2016) A group show featuring 11 ceramic artists. Alejandra Almuelle, Jolea Arcidiacono, Susan Bell, Ovidio Giberga, Pat Johnson, Marianne Levy, Billy Ray Mangham, James Tisdale, Jamie Lea Wade, Jess Wade, and Amanda Wood.
Transitions
(January 29 - 30, 2016) Solo show by JoElla Mendez. Featuring mixed media and abstractions on canvas.
2015
Photo Journeys: 32 Years Through Small Texas Towns
(November 19 - 29, 2015) John Mattson and Karen Zimmerly's exhibit of photos of small Texas towns. "Our photographs are our homage to time and the irony that can come from the contradictions inherent in transformation."
Second Annual EnPleinAirTEXAS National Juried Painting Competition
(October 25-November 1, 2015) 2014 Grand Prize Winner Ray Hassard, Cincinnati, Ohio, the 2015 Invited Artist, and 34 Competition Artists from across the country, juried in by Marc Hanson, nationally acclaimed Plein air artist, will compete for $13,000 in prize money this week. For more information visit http://www.enpleinairtexas.com/
A FLEETING MOMENT
(September 17-19) Paintings that grab a moment in time painted by San Angelo PASA artists. The gallery show featured local EnPleinAir artists JoNell Richardson, Leslie Sealey, and Jack Price.
FLIRTING WITH SPACE & TIME
(May 2015) Husband-and-wife artist team Eric and Morgan Grasham exhibited new works that played with visual reality in Flirting With Spacetime.