Gallery Verde

The San Angelo Museum of Fine Arts, Gallery Verde, 417 S.Oakes
This commercial building was constructed in the early 1920's and over the years has been the location of a number of retail businesses. The property had gone into severe decline and virtual abandonment until 2002 when it was acquired by the San Angelo Museum of Fine Arts. In a joint venture with the Upper Colorado River Authority, the museum restored this building and for over seven years it was used as an education center by the UCRA. The museum will now operate an art gallery at this location. In recognition of the numerous environmentally based exhibitions and programs that have taken place here, we have decided to name the space Gallery Verde.

Gallery Verde is looked upon as a gallery of the museum and is to be used to highlight the work of outstanding individuals, groups and contemporary collections. Exhibitions in Gallery Verde will provide educational content, inspiration and information to the community in accordance with the museum's mission. The gallery space is meant to create awareness in all aspects of environmental knowledge including human social interaction and concerns. Artists, groups and collections are expected to be of the highest qualities and presented professionally.
Our premier exhibit features over forty works created by leading artists from around the country who participate in the museum's first national "En Plein Air" competition. Fittingly the artists have reflected on the constructed as well as natural environments of our region.
If you are interested in exhibiting your work and feel your work meets the above criteria, please contact Shaydee Watson at 325-653-3333. You can also email graphics@samfa.org for more information.

Upcoming Events: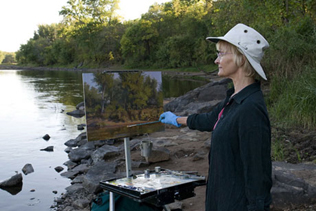 EnPleinAir Artist Mary Pettis Workshop
October 31 - November 2, 2016
9 am to 5 pm each day
Space is limited.
For more information please click HERE.
Supply list coming soon.


To purchase a spot in the class: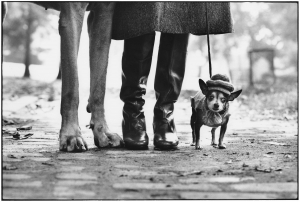 Best Friends II - Gallery Exhibit
Opening November 4, 2016 at 5:30 pm
November 4 - 30, 2016
Hours: Tuesday - Saturday 10 am - 4 pm, Sunday 1 pm - 4 pm
Closed Thanksgiving Day Nov. 24th
A collection of photography catching a special moment in time of man's best friend. Each photograph is an outstanding example of the photographer's ability to instill an image with much more than just a faithful record of the dogs' appearance. Many of the photos could be labeled portraits because of the obvious affection the photographer has for the dog in the photograph. The photographs are on loan from The Grace Museum in Abilene, Texas and from the collection of Alice and Bill Wright.
Photo: Elliott Erwitt, New York City, 1974 (Felix, Gladys, and Rover)
Past Exhibits:
2016
Billy Merry Art's Debut Gallery Showing
(September 23 - 24, 2016) Abstract Acrylic Paintings
West Texas Chronicles Exhibit by Tom C. Orsak
(September 15, 2016) 2016 EnPleinAir TEXAS Competition Artist Gallery Show

PASA Spring Sale
(May 19, 2016) Featured both new studio and Plein Air paintings.
Emily Leonard
(May 12-14, 2016) Emily was in town as part of a collaboration with the San Angelo Civic Ballet production, We Are... She painted an orginal piece live onstage during the event. At the same time, she had an exibit featuring original oils and prints of abstract and impressionistic landscape art at Gallery Verde.
Narrative Offerings
(April 15th - 17th, 2016) A group show featuring 11 ceramic artists. Alejandra Almuelle, Jolea Arcidiacono, Susan Bell, Ovidio Giberga, Pat Johnson, Marianne Levy, Billy Ray Mangham, James Tisdale, Jamie Lea Wade, Jess Wade, and Amanda Wood.
Transitions
(January 29 - 30, 2016) Solo show by JoElla Mendez. Featuring mixed media and abstractions on canvas.
2015
Photo Journeys: 32 Years Through Small Texas Towns
(November 19 - 29, 2015) John Mattson and Karen Zimmerly's exhibit of photos of small Texas towns. "Our photographs are our homage to time and the irony that can come from the contradictions inherent in transformation."
Second Annual EnPleinAirTEXAS National Juried Painting Competition
(October 25-November 1, 2015) 2014 Grand Prize Winner Ray Hassard, Cincinnati, Ohio, the 2015 Invited Artist, and 34 Competition Artists from across the country, juried in by Marc Hanson, nationally acclaimed Plein air artist, will compete for $13,000 in prize money this week. For more information visit http://www.enpleinairtexas.com/
A FLEETING MOMENT
(September 17-19) Paintings that grab a moment in time painted by San Angelo PASA artists. The gallery show featured local EnPleinAir artists JoNell Richardson, Leslie Sealey, and Jack Price.
FLIRTING WITH SPACE & TIME
(May 2015) Husband-and-wife artist team Eric and Morgan Grasham exhibited new works that played with visual reality in Flirting With Spacetime.