Current Exhibits
September 24 – November 28, 2021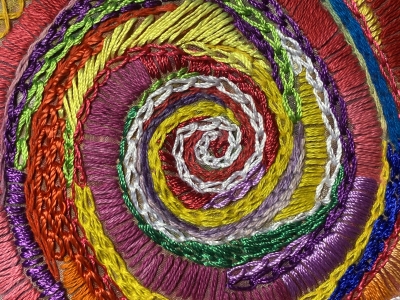 Hand Stitch 2021 / Works by Texas Artists

This exhibit is a survey of ten women working with thread and needle at a time when embroidery (and textile art in general) is experiencing increased international recognition as a medium of choice for serious artists.
Each artist has a personal commitment to exploring ideas and materials and how both relate to contemporary art. Artists include Debbie Armstrong, Beth Cunningham, Janis Hooker, Lucia LaVilla-Havelin, Barbara Lugge, Kim Paxson, Miki Rodriguez, Mary Ruth Smith, Pamela Studstill, and Sue Anne Sullivan.
Included in museum collections and publications, displayed internationally, and recognized for excellence, the work of these artists comes together in an exhibit of visual richness and social commentary.
Pictured: Lolly by Beth Cunningham
September 24, 2021 – March 20, 2022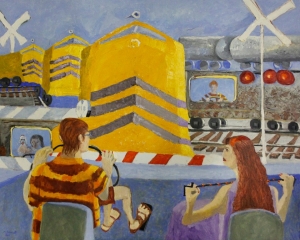 Majesty and Tenderness: The Art of Maurice Schmidt
A rich exhibit of paintings and works on paper by a skilled and prolific South Texas artist whose vivid colors and expressive portrayals of both daily life and religious subjects simultaneously charm and awe the viewer. SAMFA is pleased to introduce Schmidt's work to San Angelo, especially because this collection of Schmidt's work, which was created over the course of his long career, will be gifted by the artist and his wife to the museum following the exhibit.
Pictured: Waiting on the Train in Kingsville, TX by Maurice Schmidt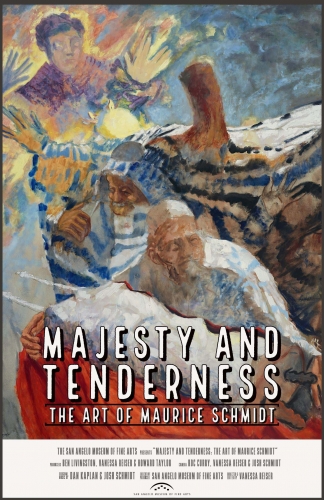 Click HERE to watch the film by Vanessa Reiser and Ben Livingston, made to accompany the SAMFA exhibit.
"Majesty and Tenderness: The Art of Maurice Schmidt" is a rare glimpse into the genius of a very unusual Texas artist who finds the majesty of beauty in everything. His artistic vision of over seventy prolific years, peers through a unique lens of Judaism, claiming that over decades of study, he has become "one with the Torah." As an articulate academician, Maurice Schmidt candidly describes how his spiritual interpretations become a congruent mastery of beautiful craftsmanship and pure visceral expression that plays out seamlessly through his powerfully dynamic portrayals of daily life, agricultural landscapes and religious subjects.
October 2021 - October 2023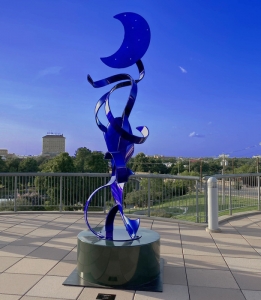 The 7th Biennial Salmon Sculpture Competition in Memory of Pam Salmon
The Salmon Sculpture Competition, a juried exhibition of outdoor sculpture, is a biennial exhibit of 12-15 large-scale sculptures in Sunken Garden Park, City of San Angelo. The exhibit is hosted by the San Angelo Museum of Fine Arts, in cooperation with the City of San Angelo Public Art Commission and the City government. Sunken Garden Park (700 Block S. Abe Street/W. Avenue D) includes a formal sunken garden area where, spring through fall, canna and other flower displays are featured.
Michelle O'Michael
Houston, TX
Moon River
Steel and resin
For Information about the 2019 Sculpture Competition CLICK HERE
Click here for Upcoming Exhibits Click here for Past Exhibits
Special Loan Exhibit at the Official Residence of the European Union's Ambassador to the United States, Washington, D.C.

Ceramics and paintings from the SAMFA Collection on display in the Ambassador's home.