Current Exhibits
February 16, 2023 – May 21, 2023
At the Quartermaster Gallery, Fort Concho National Historic Landmark (Burgess St. and E. Avenue C)
Hours: 11 am to 5 pm Tuesday-Saturday
1 pm to 5 pm Sunday
Closed Monday
Take a Closer Look: Orna Feinstein and McKay Otto
A dazzling display by two cutting-edge Texas artists: Printmaker/sculptor Orna Feinstein and painter/sculptor McKay Otto
View our Online Gallery of this exhibit HERE.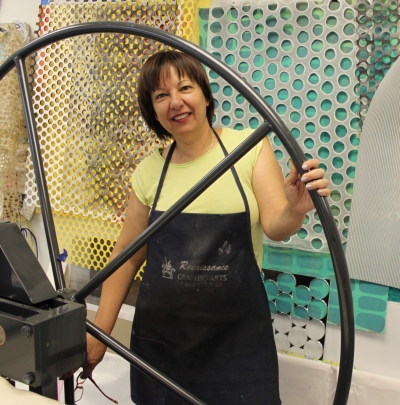 Orna Feinstein earned her B.F.A in sculpture from the University of Houston, and a diploma in printmaking from the Glassell school of Art. Her work is inspired by the organic and geometric in nature. Feinstein continues to investigate the printing processes using various surfaces, such as fabric, paper, concrete and Plexiglas. These experiments led her to create major sculptural installations and monoprints that move beyond the flat surface of the paper. Her most notable innovative approach to printmaking resulted in 3D monoprints that create depth as well as an illusion of optical movement.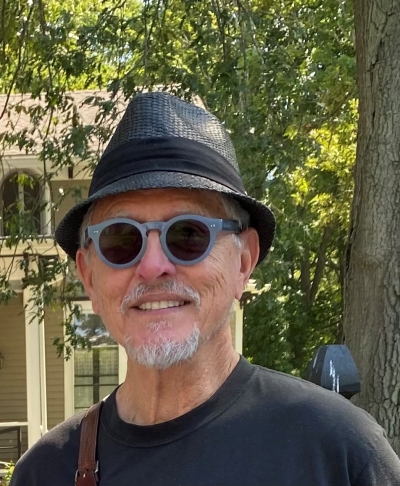 McKay Otto is a Texas-based artist whose work continues to transcend time and space, reaching into the depths of what we all hope will grace our existences: light. Light hovers and bounces around the soft shadows that live among veils of delicately tenuous shades of color. The sculptures reveal themselves differently in the daytime versus in the nighttime, retaining their glow and adding another intriguing layer to the work. Reveling in the beauty of the possibilities of the artistic expression, Otto says, "The work is obsessed with the expression of color, light, and the way we perceive these things."
| | | |
| --- | --- | --- |
| | | |
| Orna Feinstein, Tree Dynamics #29, 2013, 35 x 68 in | | McKay Otto at the Delaplaine Art Center, Frederick, Maryland 2022 |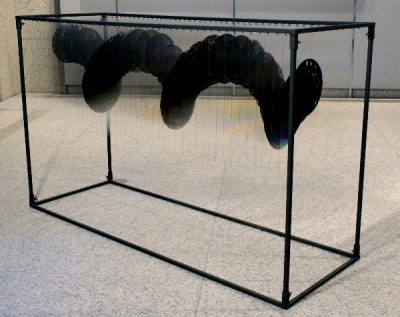 Orna Feinstein, Twisted, 2012, 84 x 48 x 26 in.
---
October 2021 - October 2023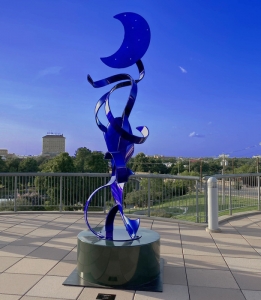 The 7th Biennial Salmon Sculpture Competition in Memory of Pam Salmon
The Salmon Sculpture Competition, a juried exhibition of outdoor sculpture, is a biennial exhibit of 12-15 large-scale sculptures in Sunken Garden Park, City of San Angelo. The exhibit is hosted by the San Angelo Museum of Fine Arts, in cooperation with the City of San Angelo Public Art Commission and the City government. Sunken Garden Park (700 Block S. Abe Street/W. Avenue D) includes a formal sunken garden area where, spring through fall, canna and other flower displays are featured.
Michelle O'Michael
Houston, TX
Moon River
Steel and resin
For Information about the 2019 Sculpture Competition CLICK HERE
Click here for Upcoming Exhibits Click here for Past Exhibits


Special Loan Exhibit at the Official Residence of the European Union's Ambassador to the United States, Washington, D.C.

Ceramics and paintings from the SAMFA Collection on display in the Ambassador's home.